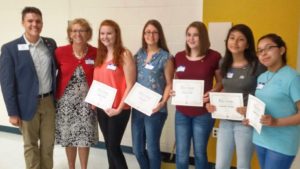 Pictured above: (left to right):  LSHS Key Club 2017-18 Officers: Lt. Gov. Juan Cabrera, Faculty Sponsor, Sheila Shepard, LSKS Key CLub 2017-18 Officers: Pres. Sydney Combs, Vice President Emily Gerst, Secretary Lauryn Combs, Editor Samantha Madrid, Webmaster Rochelle Gonzalez.
The Lehigh Sr. High School Key Club installed their officers for 2017-18, during a spaghetti dinner held April 4th, in the LSHS cafeteria.  The event was planned by their Faculty Sponsor, Sheila Shepard, and coordinated with Lehigh Kiwanis Club, the Key Club sponsor.  Key Club members invited their parents to attend the dinner to witness the installation ceremonies, better understand the functions of the Key Club, Lehigh Kiwanis Club, Kiwanis Florida Foundation and their relationship to their children.
Prior to the ceremonies, several local Kiwanis members talked about: What Kiwanis is about, How being a Kiwanis member has impacted their life, Where funding for Kiwanis scholarships and projects comes from.
Lt. Governor, Key Club Div. 19-B, Juan Cabrera presided over the retirement of current Key CLub Officers and the incoming 2017/18 Officer installation.  The Lehigh Senior Key Club is very active in the community, doing many service projects throughout the year.
Key Club is the world's largest young adult organization in the world.  From grade school thru high school, Kiwanis mentors,  advises and works hand-in-hand with students and faculty sponsors all sharing the same vision–to make "our world" a better place in which to live.  Lehigh Kiwanis Club closely works with faculty sponsors to instill good human values in our local students in many of our local schools.
If you would like to participate in our programs, you're invited to attend our Lehigh Kiwanis Breakfast Meetings held each Wed. morning at Hope Hospice Community Room, at 7:00 a.m. for breakfast, with meetings starting at 7:30 a.m., to see us in action and enjoy our many varied and informative speakers.