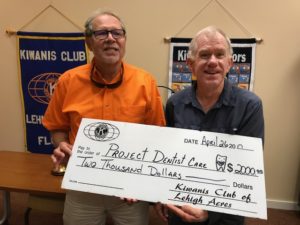 Lehigh Kiwanis Club President, Richard St. Dennis, presented Dr. William Truax, founder, Project Dental Care $2,000.00 for their free dental clinic. Dr. William Truax started Project Dental Care in Fort Myers in 1996.  They have expanded to four treatment rooms where approximately 25 local dentists volunteer their services to perform various dental procedures such as extractions, fillings, surgery and some endodontics. They treat many in our community who are without medical or dental coverage and meet their financial criteria for assistance.
Those without insurance often visit hospital emergency rooms for dental problems. Hospitals are ill equipped to address dental issues properly, often leaving the patient with no solution but pain medication. Project Dental Care is working with several area hospitals on a referral basis resulting in better care for patients and reduced costs for emergency room operations. The Project Dental Care Clinic is located at 2051 McGregor Ave., Fort Myers FL.
Lehigh Kiwanis Club supports many philanthropic endeavors in our area to improve the lives of children and families in our community. The public is invited to attend Lehigh Kiwanis Club Breakfast Meetings held every Wednesday morning at Hope Hospice Community Room off Beth Stacey, with breakfast buffet starting at 7:00 a.m. and meeting starting at 7:30 a.m.
Pictured above, l to r:  Dr. Bill Truax with Lehigh Kiwanis Club President,. Richard St. Dennis.